Group E, 18:30 GMT, June 19, 2010
Loftus Versfeld Stadium, Pretoria, South Africa
Cameroon
1 - 2
Denmark
Denmark hit back from an early deficit to re-ignite their World Cup challenge and in the process extinguish Cameroon's chances of getting through to the second round.
Man of the Match: Dennis Rommedahl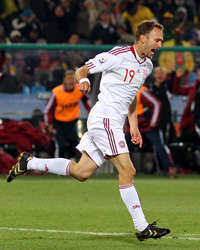 MATCH SUMMARY
Man of the Match: Dennis Rommedahl- So often a frustrating player at club level, Rommedahl was superb for Denmark. His pace has never been in doubt, and it was used to devastating effect for the Danes' opening goal. His excellent control and perfectly weighted cross for Bendtner to score was only bettered by his delightful curling finish for the winner.


Cameroon verdict: This was a much improved performance by Cameroon, and unsurprisingly it was brought about by returning the talismanic Samuel Eto'o back to his accustomed centre-forward position. Achille Emana's introduction into the midfield helped to feed the energetic Eto'o, and will leave their fans wondering what might have been if they would have adopted this approach in their opening game.


Denmark verdict: Barring an early lapse in concentration from Christian Poulsen, Denmark were highly impressive. Though not as openly attacking as their opponents, they used Rommedahl to exploit Benoit Assou-Ekotto on the counter-attack to perfection. It was a performance where Denmark's experienced grafters quietly got the job done and helped their side to a vital three points.


Could do better: Defences - Although no player on the pitch played particularly badly, sloppy defending had a hand in the opening two goals. Christian Poulsen's lapse of concentration for Cameroon's opener could have cost his team dear, while Assou-Ekotto allowed Rommedahl to ghost beyond him for Denmark's equaliser. It must be said though, the poor defending helped contribute to the most open match of the tournament so far.


Stat attack: This is the first time Denmark have ever come from behind to win a World Cup match.