Group F, 14:00 GMT, June 24, 2010
Peter Mokaba Stadium, Polokwane, South Africa
Paraguay
0 - 0
New Zealand
New Zealand's World Cup campaign ended with another draw as they held group winners Paraguay 0-0 but went out of the tournament.
New Zealand finished Group F unbeaten, having drawn with defending champions Italy and a talented Paraguay team who qualified ahead of Argentina in South America.
The last ten minutes should have seen the charge of the All White Brigade but they had exerted so much energy in keeping Paraguay at bay there was little left in the tank.
Another draw ensured they finished above four-time World Cup winners Italy in third place, though, and that does them great credit, while Paraguay finished on top of Group F.
Man of the Match: Lucas Barrios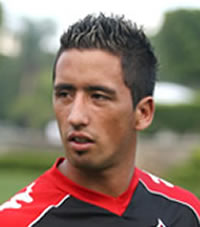 MATCH SUMMARY
Man of the Match: Lucas Barrios - It says a lot about the quality of the game that a substitute was the pick of the players, but the striker showed real intent when he was introduced. Looked lively after coming on, getting into good positions on the wings and producing a couple of dangerous crosses.

Paraguay verdict: Very disappointing following two impressive performances against Italy and Slovakia. Lacked a real cutting edge and failed to produce in the final third. Were reduced to woeful long-range efforts and must reproduce their form of the previous fixtures to have any hope of advancing.

New Zealand verdict: Too limited, the All Whites didn't push forward until the final ten minutes and never really looked like forcing anything from the game. They didn't possess enough quality but must be praised for their fantastic run - an unbeaten World Cup campaign represents an incredible achievement for the minnows.

Could do better: Oscar Cardozo - One shot from long range is all the striker had to show for his 66 fruitless minutes and he will almost certainly be dropped in favour of Barrios for Paraguay's second-round match. His hold-up play was abysmal and he is perhaps still feeling the effects of a pre-tournament injury.

Stat attack: Paraguay advanced from group play in both 1998 and 2002, but had the misfortune to face one of the eventual finalists in the second round in both years, losing to France in 1998 and Germany in 2002, both by a 1 0. They will have to negotiate a way past either Japan or Denmark in the second round this time, with Brazil their likely opponents in the quarter-finals.